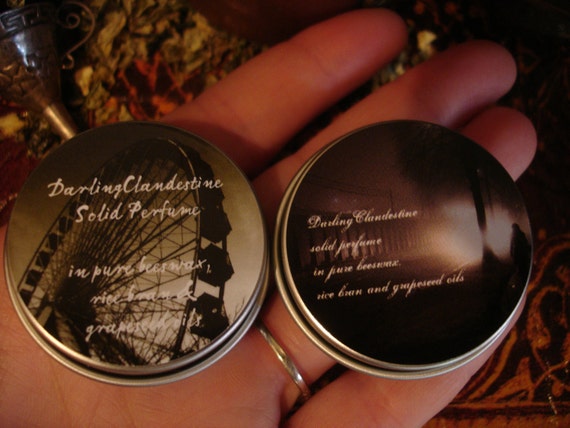 I ordered some full sized solids from DC a few weeks ago during a 20% off promo sale. Seriously, join the facebook page! She has crazy deals all the time. I ended up placing another order a few days later for a limited edition scent called Dulcinea, and Evonne convoed to tell me my order would all ship together, and refunded me shipping from the most recent purchase. I honestly cannot praise her customer service enough! She is such a sweetheart and wonderful to deal with. In total I ordered 6 solid perfumes, and was sent one for free! It was completely unexpected but greatly appreciated. The texture to these solids are creamy, quite different than other solids I'm used to where you really have to dig in there to get some of the perfume out.
I knew I loved Falchion & Step Right Up, and they're even more wonderful in solid form. I've been wearing my Circassian oil almost daily, but I tend to wear one of these in the evening. Falchion is a sexier version of Circassian. The tins can be quite tricky though; they sort of screw on, and in my excitement of wanting to smell them all at once, I ended up getting two of them stuck on somehow.
Monstre Delicat... I fell in love with this the moment I put it on. It is very dark and mysterious, and again quite sexy. I tend to go for different perfumes depending on my mood for the day or what I'm wearing, and this one made me feel sexy just lounging around the house. I can see why some say this is moody.
Inked .... smells like something my nose is familiar with, but my brain won't let me know what that is. The wine makes this one have a foodie aura to it, especially in the tin. I knew I loved leather, and this is one of many reasons I've fallen for Inked.
Dulcinea, is quite potent as the listing states, but oh is it gorgeous! The cherry in this is quite strong, and initially I was worried, but no, it does not smell anything like cherry cough syrup. It is delicious
I haven't experimented much with Pyrotechnik yet, this one is spicy yet fruity because of the cantaloupe, and I know I will be wearing this one often when spring/summer arrives.
I don't think I should have to tell you that I would order again by now. I ordered just last week again, for a Valentines pre-order of a return scent, Carny Wedding. Evonne convo'ed me shortly after, saying I was her 900th customer and could pick a free solid in my choice of scent! :) Yay! I rarely win things, and I literally jumped up and down after reading this. <3