I placed an other with Spectrum cosmetics (http://www.etsy.com/shop/torik2009) for 15 samples and received them today. The baggies aren't as tall as regular-sized samples from other companies, but they are PACKED with product! Erica (the owner) has been super nice to deal with, and her purples/plums are especially gorgeous. I asked her straight out if her product was repackaged (you kind of start to wonder after seeing the insanely low prices in her shop.) She came straight out saying she does not repackage mica. She also has created custom shades for many customers. What do you think?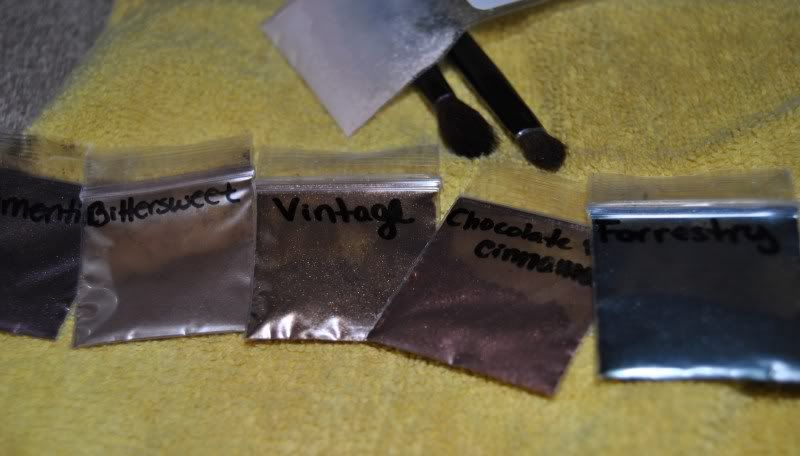 The samples I received (for 1$ a piece!) are HUGE, especially compared to Meow's samples: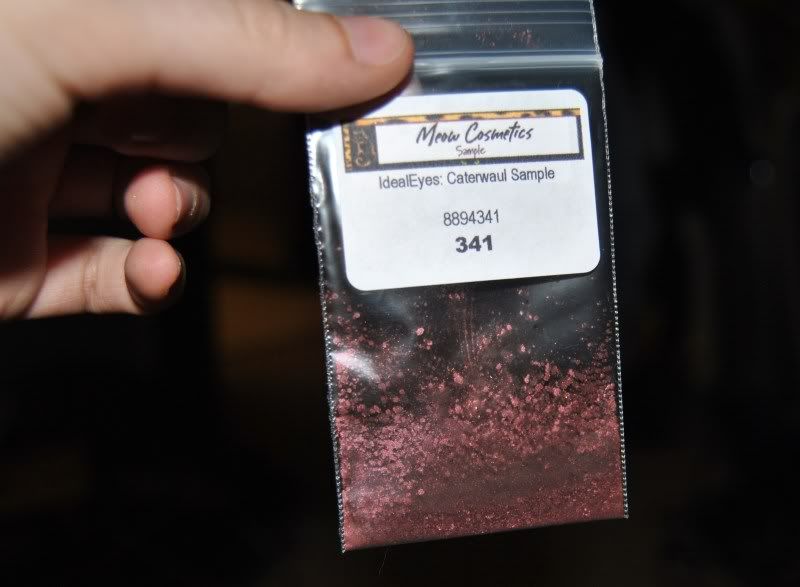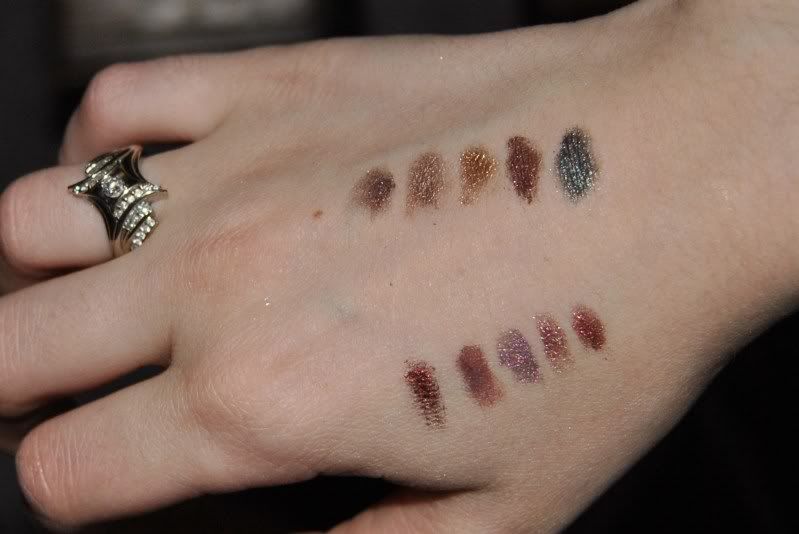 top row: dementia, bittersweet, vintage, chocolate & cinnamon, forrestry
bottom row: crimson, cordial, dirty girl, sugar plum, snap dragon
dementia - dark plum
bittersweet - medium brown, with white sparkles, I can see a bit of a lavender undertone!
vintage - dark antique gold
chocolate & cinnamon - copper brown, this is one of my favorites!
forrestry - shimmery dark blue/green
crimson - another favorite! metallic maroon
cordial - matte red-brown
dirty girl - dark purple
sugar plum - pinky purple
snap dragon - similiar to crimson, more of a burgundy. another favorite!
Next are my MEOW cosmetics samples; I took advantage of a sale they had over Columbus weekend, and snagged 30something samples, receiving two shades for free. They currently have a coupon for 20% and free shipping, if you use the code AlienKitty. My order was shipped only two days after placing the order (onthe 15th, and arrived today.) Pretty timely for shipping to Canada! I do have to mention (and i'm not the first to say this) that a lot of their shades od not match the color shades/swatches on their webpage.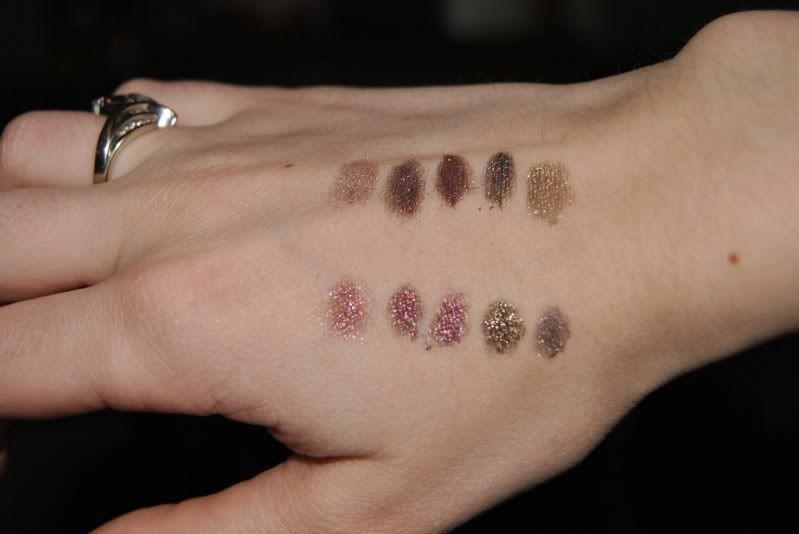 (all from halloween collections)
top row: macabre, tarantula, sinister, banshee, ghoul
bottom row: horror, coffin, vampire, fear, evil eye
macabre - ight pink-plum, much lighter than the site's watch
tarantula - more brown than coffin
sinister - dark red-brown
banshee - green black with copper undertones/shimmer
ghoul - medium olive with gold tones
horror - wine, lighter than vampire with lots of sparkle
coffin - darker than vampire, but more maroon
vampire - more of a fuschia/pinky purple compared to meow's purple swatch
fear - weird, silver-brown with multi colored sparkles. I would not say its as brown as the swatch on the site.
evil eye - dark purple, not getting any black undertones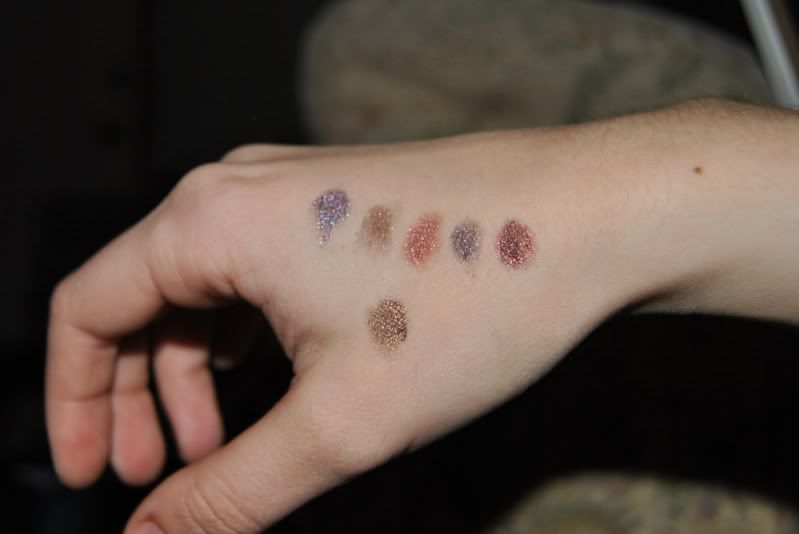 from L to R - goblin, bad girl, carnivore, heavy petting, caterwaul
goblin - from the zombie collection, vibrant purple!
bad girl - chocolate brown
carnivore - wine with pumpkin undertones
heavy petting - dark purple, not as "intense" as I was expecting
caterwaul - I purchased 2 samples in this shde, and I KNEW I would love it! it's a gorgeous deep burgundy. The only disapointing thing about this shade? It's 10.25 for a jar, nearly double the price as some LE's.
bast - free sample I received from the egyptian collection. rich metallic brown! Looks really nice as a liner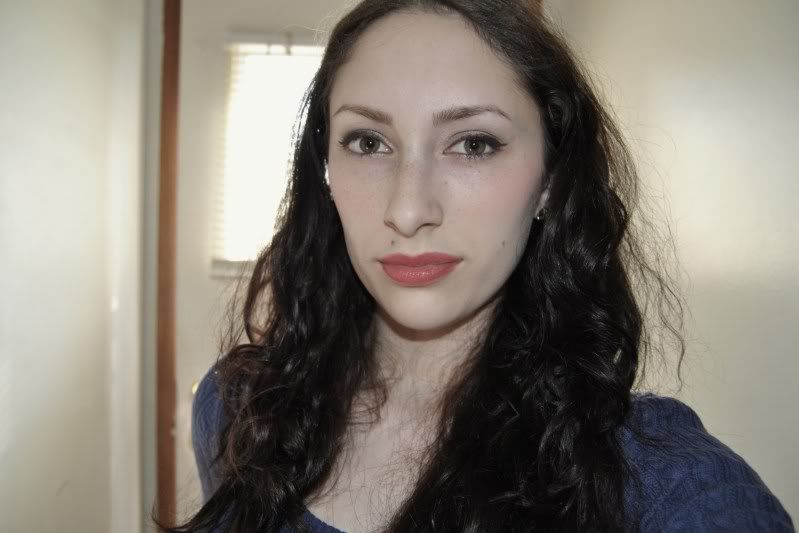 My usual (aka boring) everyday school look!