I came across
Darling Clandestine
one day while perusing Etsy. I purchased during a 20% off sale; I ordered three sample perfumes and one "Bitsy" vial in Circassian. The bitsy vials are quite interesting; they are 1 dram (about 3.6 mls, filled to the top. Most "5 ml" perfumes contain 4mls in a 5ml container) and are a steal at 4.00$. My only beef with the mini vials, is they don't have a tiny applicator on the lid as my larger bottles do. My total, including shipping, with the discount came to less than 9.00$. If you take a look at the shop (which is currently closed for the holidays, but you can browse past sales!) all of Evonne's perfumes have unique, pretty artwork, and each perfume comes with its own little story. Here is mine: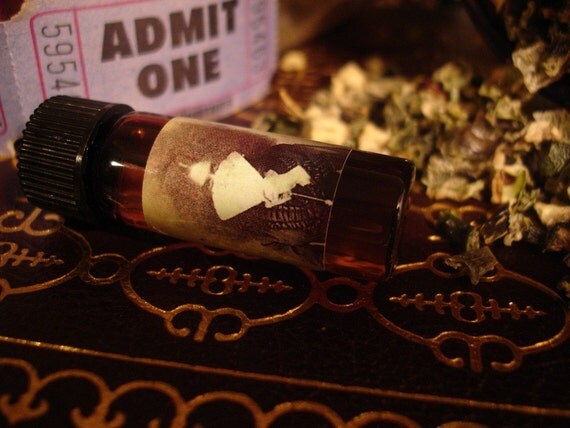 Odd and wondrous, these trinkets the suitors bring—astonishing flowers that look like paper birds, jasmine tea and black coffee, a costly box of chocolates with a red silk ribbon. You once saw a tiger in Bangkok, a riot in Paris, a machine at Coney Island that they said could really fly. The exotic butters in your fantastic hair, the livelihood you've adopted and the orchards you left behind. Your love is not a curiosity—it's a marvel. Make them earn it.

Carefully blended and infused by me in small batches in vintage green glass wine bottles, this is a warm chocolaty fragrance with intriguing notes of amber and blossoms. A dozen different scent elements and several days of methodical alchemy make Circassian no ordinary scented oil mix—it's a truly inimitable fragrance
I honestly adore all of the descriptions in the listings! In the bottle, this smells like delicious, gooey chocolate; the fondant sort. I am glad I decided to get more than a sample of this one, because it is lovely. On the drydown, the chocolate is still dominant but the amber and coffee beans creep out. All this needs is a buttery pastry to go with it :)
I ordered samples in Ballyhoo, Big Top Train 2010 and Falchion. These sample vials are VERY generous, and are a bit larger than regular sized samples from other companies. Evonne also included two samples in Mad as Birds and Step Right Up!
Ballyhoo: created as a limited-edition fragrance, is back by popular demand. This fragrance is a surprising melange of amber and spice with notes of creamy coffee and lime and dozens of other fascinating notes
Ballyhoo is definitely interesting, and I'm not sure how I feel about this one yet. My skin amps the lime, and I can smell just a hint of spices in the background.
Falchion: deep, sultry, intense, earthy unisex fragrance with a hint of dark chocolate. There's a smack of dusky, almost fruity spice out of the bottle, but roll it onto the skin and give it a minute—the drydown is superbly sexy. Thoroughly appropriate for gents and bold ladies. More than a dozen different scent elements and weeks of methodical alchemy make Falchion no ordinary scented oil mix—it's a truly inimitable fragrance
To my nose, this smells like a mixture of herbs and chocolate. Like the listing states, the drydown is quite different than the initial scent and becomes quite sexy. I'm surprised by the morph, as initially I found the herbal note too strong, but it mixes together nicely! I don't think my man would wear this one, though.
Big Top Train 2010: VERY rich and spicy, nutty and molasses-sweet for the holidays
Quite spicy in the bottle, and when wet on kin. On the drydown it becomes more nutty, sweet, and smokey. This one really is perfect for the Holidays; It reminds me of the scents that mingle together in a Christmas market.
Step Right Up: Clean, blue-green with a little spiciness. Nostalgic, fascinating. Unisex.
This scent does remind me of the ocean, and it is very clean. It's not the sort of "clean" you get from dishsoap or detergent though, It really is soft and nice.
Mad as Birds: Cool, yellow-green; garden dew with pear and mint and marigolds. Unisex to feminine.
This is another "clean" sort of scent, but more floral and girly. I wish this one had more of the mint.