I came across
Sarawen's
shop randomly one day when searching upon etsy. I was very excited, because not only did she have Harry Potter inspired scents, she is located in Canada! I asked Sara for some recommendations of scents to try, and she recommended some of her best selling foodie-type scents. I purchased a set of 6 sample sized perfumes; Ravish, Cake or Death, Tea With Watson, Deaths Day Feast, Yuletide at Baker's St & Black Apple. Shipping took just over a week within Canada, but I suspect it would have been faster had I not ordered during the Holidays. Photos are property of Sarawen.
Ravish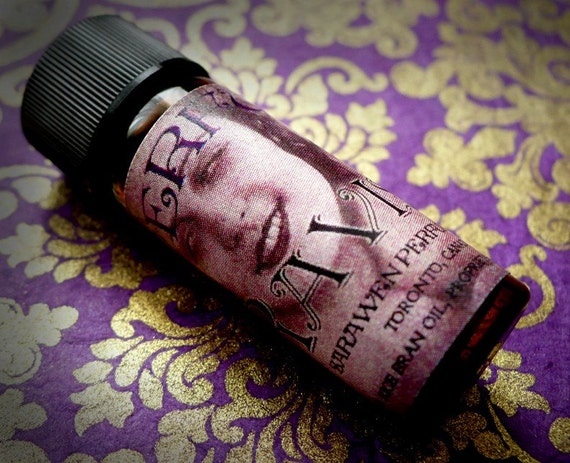 A delicious blend of summer raspberries and decadent chocolate over incense and amber. Sultry, sweet, and indulgent! Beware, an innocent little nibble could quickly turn into love bites!
In the vial, this smells mostly of rapsberries and dark chocolate. On skin, not much has changed, it remains quite sweet! I'd say the raspberry is more of a raspberry preserve sort of smell, but it doesn't smell fake, like how most strawberry scents end up smelling like Strawberry Shortcake dolls. It reminds me of a sort of cookie my dad bought me as a child. On the drydown, there is a bit of the incense/smokey scent. Delicious!!
Cake or Death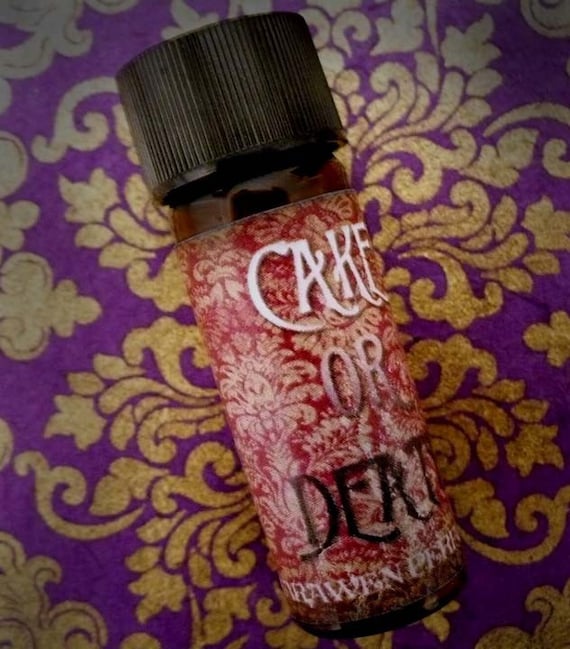 When you -must- have your cake or die! Decadent buttercream frosting and vanilla cake with a touch of spice over a darkened amber base.
I read a review where Sarawen was compared to BPAL's perfumes, and this reminds me of the cake scents they would release for Lillith's birthday. I'm not fond of this in the vial, but on the skin it is purely soft vanilla and amber. I would say my skin amps the amber on this one. I would recommend this for those who like softer foodie scents, or maybe those who typically are not foodies. It smells sort of innocent to me, if that makes sense. By the way, a "foodie" are those of us who *love* to smell of cakes, pastries, fruit, spices or really anything sweet.
Black Apple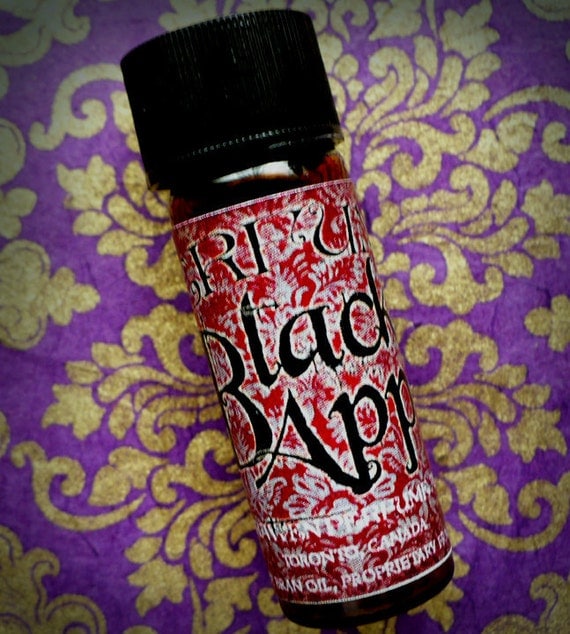 Sweet, red, ripe apples corrupted with poisoned honey and labdanum. A base of dark incense and roses completes the fragrance. Starts off fruity and innocent, then the darkness emerges.
Yum. This one reminds me very much of BPAL's Poisoned Apple, one of my favorite scents of theirs, and my favorite apple scent. It is a tart, juicy, almost sour sort of red apple. I might even say it smells more of green apples. The background notes compliment it beautifully; there is something else "green" about it, the smell you can't really name, but is like walking through an orchard. It takes a while for the incense to emerg on my skin, but again, smells lovely.
Tea With Watson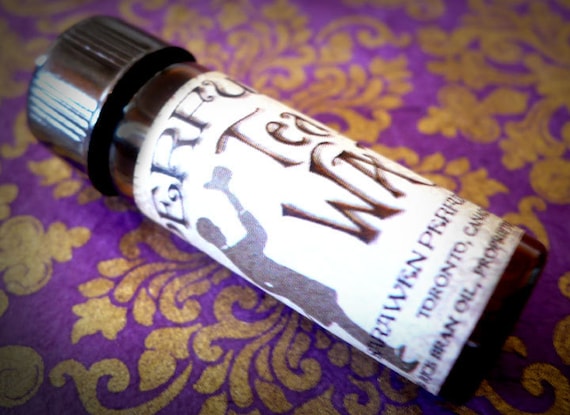 Take a break from adventuring and stop at 221 Baker Street for awhile. White tea, delicious yellow cake, and a dash of cream caramel layered over light tobacco and bay rum. It smells just like a tea party at Holmes and Watson's flat! This is a balanced unisex fragrance inspired by the world of Sherlock Holmes.
I get mostly the rum in this one, and with the caramel is smells a little like butterscotch. This one reminds me of BPAL's Grog, one of my boyfriend's favorites, and I will surely have him try this one on! This one is more boozy than foodie, I'd say, but it's a nice scent. On the drydown it becomes more like smokey caramel on me.
Death's Day Feast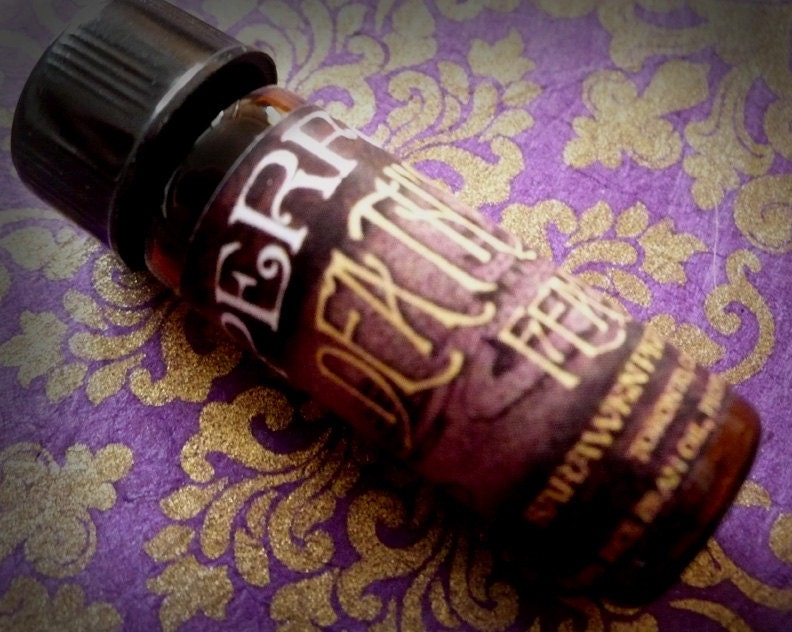 Hallowe'en is in the air, and it's time to celebrate! The scent of comforting warm pumpkin, delectable caramel apples, chocolates, and spicy incense fills the Great Hall. Just watch out for Nearly Headless Nick!
Again, Yum! In the vial I can smell a lot of the chocolate, which smells similiar to the chocolate in Ravish. The juicy apple scent is here as well, I'm not sure if I get the pumpkin, but it smells like a delicious chocolate covered caramel apple, if there is such a thing! Again, the incense comes out more on the drydown. I'd say this is one of my favorites of the bunch!
Yuletide at Baker St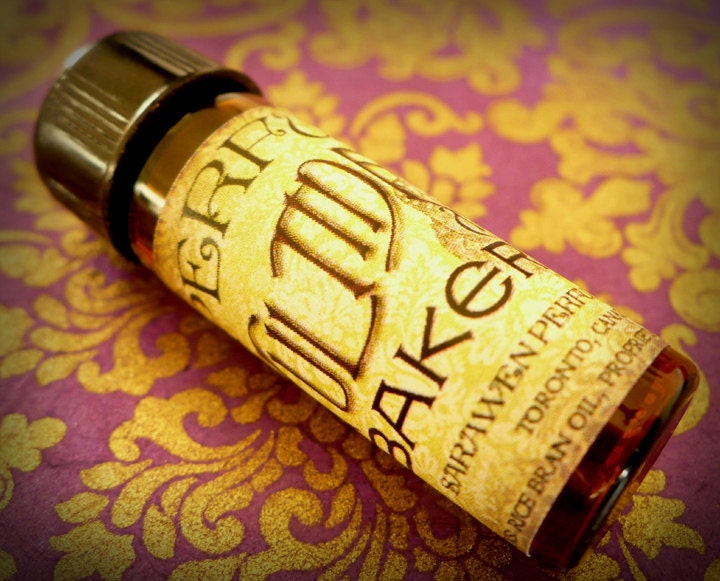 Sugared peppermints, delicious butterscotch candy, and almonds with dried fruits decorated around the tree. The scent of light tobacco lingers in the background. Spend your holiday with Holmes and Watson! This is a balanced unisex fragrance inspired by the world of Sherlock Holmes, and is perfect for the merry-making lady or gent! Available only through Winter 2011-2012
Ohhh. In the vial, and when freshly applied to skin, I get a jolt of pure peppermint! I wear BPAL's Spooky quite often, and the peppermint note is quite similiar. The description is pretty accurate; there is a hint of smoke in the background and a hint of nut. This one smells mostly of candy, and, I want to eat it.
For those of you who have not tried BPAL, I got hooked on them a few years back, until the prices of 5mL bottles went above 20$. They only ship flat rate (around 14$) to Canada, so they are really not affordable, unless you plan on saving your money and making a few larger orders a year to justify shipping. Their TAT also runs quite long, which I remember being close to a month at times. Their scents are still beautiful, but Sarawen's remind me very much of BPAL, which is a good thing. BPAL has always been praised for their high quality perfumes and interesting scent combinations. Sara's perfumes are highly affordable; samples run at 2.45$ a piece of 6 for 13.50$, and bottles are 10$! I highly recommend giving them a go, especially if you are a BPAL or usually go for more expensive collections. Although I mentioned some scents remind me of BPAL, hers are all truly unique, and maybe it is the unique-ness (is that a word?) that reminds me so much of BPAL.
Check out her Facebook page, as I hear she has plans for a Boxing Day sale!!